Kimberly Michelle sex naked photos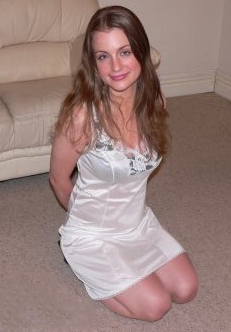 crafty
Have you ever been to a paint party? Perhaps you went with friends, drank some wine, and came home with an small canvas printing of a sunset, or a sea turtle, or… something else? And you had a bunch of fun just relaxing, and painting, and walking away with something that was decently passable as art!
Well, I've been wanting to find a paint party option for Miss L for quite awhile now and had no luck. They were all ridiculously pricey (+) and usually offered during the weekday and not on weekends for working parents to attend. While I kept looking for the option that would work for us, I completely stumbled upon the perfect option one afternoon: a virtual paint party!
And this isn't just any paint party… but a Plaid Crafts paint party! (You know… the company that makes all of the crafty things you want at Michaels!)
So Miss L and I broke out the paint last Friday night, grabbed some blank canvasses that we bought in bulk, turned on the iPad, and painted along to the 'Luau Pineapple' Paint Party and had a blast! And I'm not an art critic, but I think our pineapples turned out wonderful!
(Mine is on the left, Miss L's is on the right)
None of the painting was too difficult for Miss L, but the fast pace was a bit frustrating at the start. Each of the parties is about an hour in length, but this one took us 2 hours as we incorporated pauses along the way to ease the frustration. If you're painting with kiddos, just know that you can do a hard pause and walk away and always come back when things are better!
If you'd like to have your own paint party at home, here are all of the Plaid Crafts have done so far:
Learn to Paint: 'Blooming Cactus'
Learn To Paint: 'Luau Pineapple'
Learn to Paint: 'Sunflower Medley'
Learn To Paint: "Modern Florals"
Learn To Paint: "Moonlight Harvest"
Learn To Paint: "Holiday Magic"
Learn To Paint: Live Stream "Cherished Birch"
And they have new paint parties every month! Just check their Facebook page to see what they have planned.
p.s. In case you're wondering, this is a totally organic recommendation and NOT sponsored in any way.
kimmy
There are a few stores that I religiously shop each Black Friday/Cyber Monday, and Tea Collection is one of them! It just wouldn't be Christmas if there wasn't a beautifully wrapped Tea Collection dress under the tree for Miss L!
The Black Friday sale starts today (11/21) and goes through Saturday (11/25) with items priced at //!
Want to see what Miss L got?
Three awesome new dresses to add to her collection, and for only .60 shipped! (3 x dresses, shipping, .60 tax)
I'm happy once again this year, and hope she will be too!
Here are the special rules about the sale: Tea Collection's Black Friday Event prices are only valid on select styles featured in each category's Black Friday shop. There will be no adjustments on previous purchases. The promotion is limited to stock on hand.
lovely
If there's one store I return to each and every time I'm looking for a gift, it's Uncommon Goods. And each time I look through the site, I not only end up with the perfect gift idea, but a laundry list of things I want for myself for my next birthday!
Seriously, it's the one reliable treasure trove on the Internet that never ever lets you down! And what's even better is that they're an amazingly wonderful company as well. They pay great wages to their workers (their lowest seasonal employee starts at 150% of minimum wage!), they support artisans and hand-made goods, AND they actively support non-profit organizations as well: RAINN,
American Forests, International Rescue Committee, and Reach Out & Read! See… told you they were awesome.
But what about those uncommon gifts? Here are a few of my favorites this year:
A Year of Gratitude: 52 Thank You cards for you to send throughout the year and tips on how to live a more gracious life!
Yard Dice: You've just changed how you play Yahtzee FOREVER!!!
Flamingo Away Sculpture: I'm not sure what it says about me and my friends, but I know so many people that would adore this in their yard!
Major Scale Musical Wine Glasses: We already own 999 wine glasses, so Mr. M said we couldn't have these. So that means we'll buy them for a wine-glass deficient friend and then visit them to play wine music!
Cheese & Crackers Serving Board: A literal AMPERSAND telling you how to do happy hour the right way!
Elwood the Rainbow Unicorn Mug: How stinking adorable is this mug? It's happy. It's a unicorn. It's a mug. Fill it with marshmallows and gift pure joy!
Deep Sea Sand Art: I will never, ever stop loving these things. Ever. EVER!
Wine Pairing Towel Set: Tea towels can be bland, overly themed, or absolutely useful. These are the latter, and seem to be something that everyone can use!
Authentic Stadium Seat Cufflinks: Sports fans can be picky people. But this gift would make any fan smile! I mean, it's portable office sports bragging memorabilia! It doesn't get better than that!
Stocking Stuffers for people with insufferable habits:
Game of Phones: If they're on their phone all the time, buy them this party game that REQUIRES a phone to play!
Hair Tie Bracelet: For the person always sporting an old elastic hair tie on their wrist, no matter if they're wearing formal attire.
Wine Pearls: When certain people need their wine chilled, but refuse to chill it properly, and instead just add ice cubes and pretend it doesn't mess things up.
Stocking Stuffers for the foodies:
Make Your Own Hot Sauce Kit: You know the person who needs this. The one who is always making comments about the buffalo sauce just not having quite enough kick.
Kale and Herb Razor: I own this. It looks insanely silly, but it's amazing. Especially for rosemary!
Avocado Hugger: For the person who loves avocado toast, but only uses half an avocado at a time.
Just plain great stocking stuffers:
Record Coasters: Most coasters are sort of lame. These are the ultimate in cool.
Super Magnetic Putty: This putty will eat a magnet. It's the coolest Christmas morning party trick ever!
Ooma Bowl: This solves all of the first-world problems I encounter taking my chips and salsa to the couch on Sundays.
Am I right? Uncommon Goods really is just the best with unique gifts and presents… and once again, my wish list is running over!
crazy
It's time again for matching holiday pajama season!!!
TARGET MATCHING HOLIDAY PAJAMAS
Target has brought LOTS of matching holiday pajama options this year: Mickey Mouse, the Grinch, Rugby Stripes, Hannukah, Star Wars, plaid, etc! (Priced .00-.99)

And if you happen to have an American Girl/Our Generation/18″ doll in your family (like ours)… then I'd definitely recommend running to Target quickly to find the matching plaid or elf set for your doll(s)!
THE ORIGINAL MATCHING PAJAMAS COMPANY: HANNA ANDERSSON
Hanna Andersson is back once again with awesome options as well: all sorts of stripes, elves, Star Wars, gnomes, deer, Yeti's and even the full Nutcracker ensemble!
If you're into the more casual "matching but not really matching" affair and just want some snuggly flannel pants, then Old Navy is your spot!
OLD NAVY MATCHING PAJAMA PANTS
You can get Christmas Cactus pants for him and for her! Or you can just go with plain 'ol plaid/check as well (his & hers).
MACY'S MATCHING PAJAMAS
Macy's is in the game this year as well, with classic sets of red plaid matching family pajamas and holiday stripe pajamas that come in regular & plus sizes for adults, as well as toddler & kids!
CRAZY KIGURUMI MATCHING PAJAMAS
Or… you could opt for matching Kigurumi character sleepsuits… like the unicorn pajamas my brother got me last year! They come in kid and adult sizes, and you find all kinds of characters (Pikachu, Stitch, Cheshire Cat, Winnie the Pooh, Corgis, Unicorns, etc.) for less than each on eBay or aliExpress (if you have 2-3 weeks to wait for shipping from China) or you can pay a little bit more and get them via Amazon.
So go forth and outfit your family, not matter how small or big, in matching holiday pajamas this winter!
corgi, lifestyle, trendy
It's true! On October 21, 2017, Miss London the Corgi attended her first ever Northern California CorgiCon!
And it truly was a sight to see! There were hundreds of corgis ready to play and thousands of people ready to play with them on below the Cliff House on Ocean Beach in San Francisco.
There was lots of room on the beach for free play.
There was a group photo and Miss L and Miss London got front row seats!
And there were other organized activities for everyone to watch and enjoy: an agility course, a costume contest, and finally the Corgi Derby!
Miss London was quite hesitant at first. We weren't sure if it was the sand or perhaps the giant CorgiCon crowd, but her little corgi paws spent the first half hour tiptoeing gently across the beach. But with each human corgi fan that stopped to bend down and say, "Hi" to her, her spirit eased a bit. Soon, she was the one doing the introductions and just licking people's hands and bumping up against their legs.
"Hey, you! I'm super cute! LOVE ME??? LOVE ME!!!"
If she wasn't on a leash, anyone on that beach could have taken this pup home with them for just a few minutes of adoration. She was just blinded by all of the love.
But what about all of the other corgis? You know, the hundreds of other dogs chilling at the beach? Yeah… I don't think she really noticed them at all. Well… that is until the CorgiCon corgi races!
There were about 6 people deep all around the fenced off activity area, so Miss L and London missed seeing the agility and costume contests. Being a head taller than most normal people, I got to sneak some peeks. But when it came time for the running of the corgis, we ended up with a 2nd row seat for the action… and London was into that!
The first heat ran by us… and Miss London started barking up a storm! I'm not sure if she was excited? Scared? Jealous? Either way, she reacted exactly the same during the 2nd heat. Then, as they were gathering corgis to the start of the 3rd and final heat, they annouced that there were 5 open spots for the final heat. The corgi lovers we were sitting with all cheered and said, "London! Go! It's your chance!" as they had interpreted her barks as jealousy/excitement. Miss L jumped up and down and we yelled to try and get a spot… and sure enough they invited us to the start line!
Everything seemed to be going smoothly for the race. I was at the start line with Miss London, and Miss L was at the finish line waiting to call her puppy to her. They counted down and I released London and off she went.
But then… a collision occurred!
The puppy next her crossed at the same time and suddenly London run over by her corgi cousin, and completely confused!
Instead of running straight, she veered off to the left and into the arms of her adoring crowd. Seriously. She jumped right into the arms of random people and just sat their smiling and happy.
By 2:00pm, the end of CorgiCon, this puppy was pooped. So we left the beach for some dog-friendly brunch down the road, and then finished up the day frolicking over at the Presidio.
We said, "Hi!" to Yoda over at LucasFilm…
… and then got in some crazy good romps over on the large green lawn at The Main Post.
Then, it was back over the Golden Gate bridge to return home after a long corgi-filled day!
Older Posts